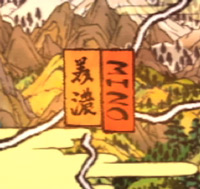 The Mino Province is a location based on the real world province in Japan.
For Momohime
Edit
Cooking Ingredients
Edit
Recovery Items
Edit
Accessories
Edit
For Kisuke
Edit
Description forthcoming.
Points of Interest
Edit
The Mino Province has a soba shop, hot spring, and a green enemy lair.
One of Kisuke's bosses, Torahime, can be fought here in an area named Kagami Manor of Narukami, Mt. Ibuki. Defeating her after being able to break white barriers obtains the Dragon God Belt.