Collect more Spirit to Increase Attack Power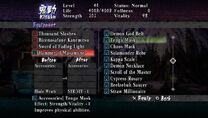 Accessories
are special items that your character can equip. Some are bought from merchants, others are found by re-battling
bosses
and completing
Enemy Lairs
. Some can only be found after being able to break
white barriers
, which is after completing Momohime and Kisuke's Final Acts (referred to below as post-game), and fighting their old enemy bosses again.
Accessories give different types of bonuses, the most common ones give bonuses to strength and vitality.
This is the list of accessories known so far.
Ad blocker interference detected!
Wikia is a free-to-use site that makes money from advertising. We have a modified experience for viewers using ad blockers

Wikia is not accessible if you've made further modifications. Remove the custom ad blocker rule(s) and the page will load as expected.